Messiaen Solo Piano Music
Beginning in 2010, Messiaen's centennial year, I decided to perform all of Messiaen's solo piano music. With no real deadline in mind, I began with the epic Vingt Regards sur l'Enfant-Jésus, which at over two hours long was quite a way to start.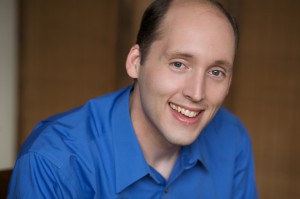 Since then I have performed numerous recitals with Messiaen-centric themes, including a juxtaposition of his music with that of his students and a recital devoted to music that was premiered and championed by his wife Yvonne Loriod. I have enjoyed giving lecture recitals and workshops on Messiaen and his music as well. This project has been made richer by working with some of Messiaen's former students and people who knew him well. I have also enjoyed visiting where he lived and worked in Paris and Petichet in the French Alps.  My Messiaen project has continued with a program of many of Messiaen's early works, a performance of the epic Visions de l'Amen with Messiaen expert Peter Hill, and the first 4 books of the Catalogue d'oiseaux.  Later this spring I will finish the project with a performance of the remaining books of the Catalogue d'oiseaux, the 4 Etudes, and La fauvette passerinette, a newly-discovered piece receiving its Baltimore premiere.  Please join me at An die Musik in Baltimore, MD for these exciting concerts.
Debut Solo Recording: The Piano Music of Messiaen and his Students
I am thrilled to be following up my Messiaen recital series with a recording project to be released on Albany Records, featuring the music of Messiaen and some of his notable students.  I am looking forward to recording some of my favorite Messiaen works as well as pieces by Pierre Boulez, Tristan Murail, and Michel Merlet (world-premiere recording).  It was an honor to work with both Boulez and Merlet, and I look forward to sharing what I have learned from them in this recording.
Recording of the Flute Sonatas of Gary Schocker
Flutist Leslie Stroud and I have had a terrific time working on the flute sonatas of New York City-based composer Gary Schocker.  Leslie has been working with Schocker for years, and we have enjoyed working directly with him on these pieces.  The recording will be released by Centaur Records and will feature world premiere recordings, including To Say Goodbye, which Leslie and I premiered in fall 2017.
Vienna: City of Song
On March 28th, 2015 I will be curating and performing in a wonderful song recital featuring works by Mahler, Berg, and Schoenberg.  This recital, performed at the New York Public Library for the Performing Arts in Lincoln Center, is inspired by the Library's rare manuscript of Mahler's hauntingly beautiful "Revelge."  Other highlights include Schoenberg's early Brettl Lieder and Alban Berg's two settings of Schliesse mir die Augen beide written twenty years apart.  It's stunning to see just how far Berg grew as a composer.  Come share this exciting program with me and baritone Trevor Scheunemann and sopranos Katherine Whyte and Jacqueline Stucker.
I will be following up this song recital with a solo piano recital program in tribute to Vienna.  Check back on the schedule section of the website for details on dates and locations.
Pierre Boulez at 90
In celebration of French composer and conductor Pierre Boulez's 90th year, I will be performing all of his solo piano music.   The program will include all three sonatas, Incises, the recently-written Une page d'éphéméride, and the early Douze notations, which I worked on with the composer.
This concert will take place on Sunday December 13 at 3pm at An die Musik in Baltimore, MD.
Debussy at 150—Forgotten Melodies: The Songs of Claude Debussy
In celebration of the 150th year of Claude Debussy's birth, Ilana Zarankin, Matt Morris, Logan Walsh, Morgan Strickland, Marie Marquis, and others  are joining me for two recitals of his songs at the Bruno Walter Auditorium at the NY Public Library for the Performing Arts at Lincoln Center in New York. We will be highlighting several of Debussy's lesser-known songs, including several that have been published just this year, and one, Les papillons, which exists in manuscript form in the library's collection. Come see the manuscript and hear this beautiful gem. These programs will include Sept poèmes de Banville, Les Elfes, Rondel chinois, Romance d'Ariel, Trois Ballades de François Villon, Le Promenoir des deux amants, Fêtes galantes II, Proses lyriques, and other wonderful songs.